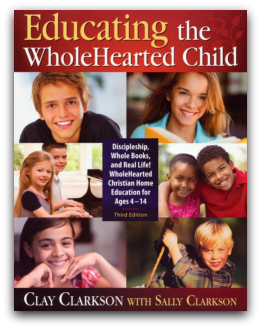 So, where was this book nine years ago, when I started homeschooling?
Educating the WholeHearted Child, by Clay and Sally Clarkson of Whole Heart Ministries, has actually been around since 1994, before my children were even born, but this is the first time it has been in my hands. I wish I had owned it back then. The 3rd edition, published earlier this year, is a treasure-trove of almost everything you could need to know about homeschooling.
The Clarksons begin with the assumption that you believe homeschooling is a good idea, but they give you plenty of reasons to re-examine your heart on the issue. They want you to start with the basic foundation and conviction that homeschooling is part of God's plan for home and family:
"The home is the only institution designed and provided by God in scripture for training children" (pg. 13).
They examine the purposes for homeschooling and boil their vision down to this:
"Our vision is to help you keep faith in your family" (pg. 16).
This nearly 400-page resource is broken down into four major sections: home, learning, methods, and living. The writing is clear and concise, so you can skim through or dive right in to any section or chapter without feeling lost.
I can't stress enough how much information is here. The Clarksons help define goals and solidify your reasons for homeschooling. They back everything up with pertinent scriptures, studies, quotes, and personal experience on the margins of every page.
One of my favorite parts is about knowing "What to Do when Cornered by a Critic:"
"Always remember that these vocal adversaries of homeschooling are not neutral. You can generally assume their criticisms have been cooking for some time, and you just happen to be the one who gets to taste what's in their mental oven. You don't have to swallow their arguments, but don't throw them back in their face either. Your 'gentle answer' may help convert a critic into an inquirer and maybe even a friend" (pg. 31).
They go on to give you valid ideas for how to answer:
the Legislation Question,

the Education Question,

the Socialization Question,

the Qualification Question, and

the Reputation Question (Section 1, chapter 2).
One of the main topics of this book is discipleship, how to birth and nurture your child's relationship with God.
"There is always the temptation to reduce discipleship to a program, a project, a course of study or a set of rules. This may be especially true in a curriculum-driven homeschooling community. The danger when that happens is not about doing something biblically wrong, but about missing the biblical dynamic and fulfillment of home discipleship as it could be -- the influence of personal relationships, the leading and power of the Holy Spirit, and the joy of the journey exploring God's path of life together" (pg. 58).
In the Methods section, the advice becomes even more practical, giving specific ideas for how to teach reading, history, geography, fine arts, science, foreign language, and other subjects. The over-arching premise is a whole-book approach to learning, eschewing textbooks for biographies and other "living books."
Other interesting chapters deal very effectively with personality types and learning styles, testing vs. not testing, family roles, celebrating holidays, structure and order in the home, and support groups. There are a plethora of useful forms and reading lists.
If you are new to homeschooling, I would recommend this book as a "must-have." If you've been around a while, I think it could help get you rejuvenated or restructured. I was definitely reminded of many things I meant to do and I now have a list of things to do and think about, including:
Record Holly reading so she can hear how she sounds when she reads to fast or too low.

Plan to take a family missions trip.

Think about early graduation into independent study and employment.

Write Night (everybody writes a story).

Ask "real questions" (i.e., why do we homeschool? or why must I be saved?) and have kids research biblical and extra-biblical sources for a written response.

Set up a more permanent learning space.

Hold a "project day" and allow kids to work on things that interest them.
I only took exception to one line in the book. The Clarksons do not advocate spanking (pg. 67), but they present their ideas, with a lot of grace for those who disagree (like me), so I'll extend grace to them as well.

Educating the WholeHearted Child is published by Apologia/WholeHeart. If you haven't heard of Apologia by now, you must be very new to homeschooling! I am most familiar with their Exploring Creation science curriculum by Jeannie Fulbright (elementary) and Jay Wile (upper levels). They also offer online courses in science, apologetics and worldview. You can find this book on their website for the regular price of $22.00 (but it appears to be on sale for $20.00 at the moment).
Though this book is intended for parents of children ages 4 to 14, I think there is plenty of meat, especially in the first 2 sections, even for high-schooling families. In fact, I'd even consider assigning my high-schooler to read a few sections to learn the hows and whys of homeschooling for the future instruction of her own children.
This is one of those books that deserves the title "Resource" and that you will want to read and review, at least in sections, over and over again.
As part of The Old Schoolhouse Homeschool Crew, I was provided this book free of charge in exchange for an honest review. For more TOS Crew reviews, click here.