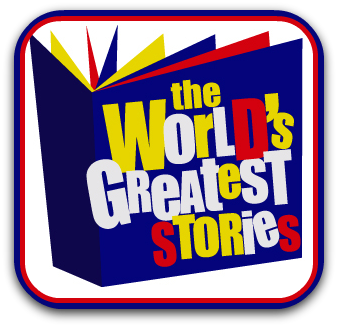 We need a long road trip! That's how I felt when I listened to
The World's Greatest Stories
as told by George W. Sarris. We LOVE to listen to CDs while traveling, especially fun and exciting stories! Mr. Sarris' versions of Daniel in the Lion's Den, Elijah and the Prophets of Baal and all the others really fit the bill.
In reality, you don't need a long road trip to enjoy these stories, although each volume is approximately one hour long, most are generally broken into five stories so you can start and stop in ten to fifteen minute increments.
The BEST thing about these stories is that they are word-for-word from the Bible!
You can get King James (my choice) or NIV versions.
The NEXT BEST thing is that Mr. Sarris uses a wide variety of voices (his own) and sound effects that help grab your attention and keep it.
As your child listens, they aren't getting a watered down or fictionalized version of the Bible -- they are chewing on the real Word. If you listen over and over, I'm sure you and your child would soon have many parts, or even whole stories memorized. Currently, there are 6 volumes of stories...here is what you can get for only $7.95/each volume.
Volume 1 = The Prophets
The Blazing Furnace
The Handwriting on the Wall
Daniel in the Lion's Den
Elijah and the Prophets of Baal
The Prophecy of Jonah
Volume 2 = The Life of Christ
the Real Story of Christmas
The Baptism and Temptation of Jesus
The Healing of the Blind Man
Things Jesus Said and Did
The Real Story of Easter
Volume 3 = Beginnings
In the Beginning
A Lame Man in Lystra
A Jailer in Philippi
The Story of Ruth
The Raising of Lazarus
Volume 4 = Joshua & Esther
The Battle of Jericho
The Book of Esther
Volume 5 = Joseph & His Brothers
Volume 6 = Defeating Giants
David & Goliath
Namaan the Leper
Micaiah the Prophet & Josephat the King
The Sacrifice of Isaac
Gideon & His 300 Men
There is also a series of CD messages on homeschooling dads, dating, impacting our culture, and more for only $4.95/each. You can find those
here
.
The narrator, George W. Sarris has some pretty impressive credentials. He has worked commercially in New York as the principal spokesman for radio and TV commercials for Burger King, Duracell, Pizza Hut, Sprint, UPS, Honda and others. He has a Bachelor of Science in Speech and a Master of Divinity. He has served on the staff of the Mass Media Ministry of Campus Crusade.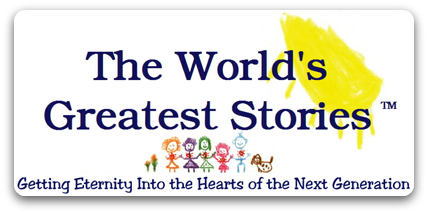 These stories are aimed at ages 4 and up, and I think would be enjoyed by everyone! I have teens, so they smirked a little at first, but later I overhead them quoting bits of the story back and trying to imitate the voices!
As part of the TOS Homeschool Crew, I was provided the
World's Greatest Stories: the Prophets, Volume 1, KJV version
, plus a
Sampler
CD free of charge in exchange for an honest review. For more TOS reviews of this and other products, click
here
. I hope you will check out this series of stories and invest in them for your family. Truly one fun way to meditate on God's Word!