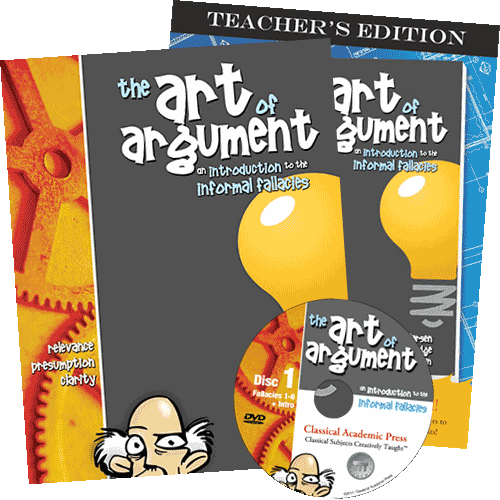 The "if I like it, so will you" argument could be classified as a "false cause" argument. Just because I like something does NOT mean that you will. Your tastes, needs and desires could be very different than mine. Yet this kind of argument is found all around us in advertising -- if a particular football hero, movie star or political figure says "I like this," we are expected to fall in line and buy that beer, make-up, or ideology too! In our everyday lives, we need to be aware of the fallacious arguments that surround us, so that we will not be taken in. The Bible says:
Behold, I send you forth as sheep in the midst of wolves: be therefore wise as serpents, and harmless as doves. Matthew 10:16
Put on the whole armor of God, that you may be able to stand against the wiles of the devil. Ephesians 6:11
Be sober, be vigilant; because your adversary the devil, as a roaring lion, walks about, seeking whom he may devour... 1 Peter 5:8
Casting down imaginations [arguments], and every high thing that exalts itself against the knowledge of God, and bringing into captivity every thought to the obedience of Christ... 2 Corinthians 10:5
But sanctify the Lord God in your hearts, and always be ready to give a defense to everyone who asks you a reason for the hope that is in you, with meekness and fear... 1 Peter 3:15
The Art of the Argument: an Introduction to the Informal Fallacies is a great resource for teaching your middle and high school age children about reasoning logically, identifying false arguments all around, and exchanging real debate for annoying bickering.
This curriculum breaks down 28 fallacious arguments into basic three types: relevance, presumption and clarity. Many of the fallacies are given their Latin names, so you'll be learning some hoity-toity language to go along with your lessons in logical reasoning.
The student text offers description, discussion, and examples of each type of argument, often accompanied by a skit between the anciently famous philosopher Socrates and two modern-day students. This is followed by vocabulary/definition questions, and both short and longer essay questions. The teacher's manual is the student manual with the answers provided in the appropriate blanks. In the front cover of the student text are listed the Four Key Questions (for deciding if an argument is false), and a list and description of all the informal fallacies. It would have been nice if this same chart had been provided in the teacher text for easier reference.
We all have our own style, and mine tends to be more oral than written, so we could have actually gotten along with just the teacher text. But, I do think that most families would prefer to have the student write, so the student text would then be very handy. I was given a sample of the DVD series and I thought that was helpful to show me (the parent) how to lead a discussion about the arguments, but did not think my kids would find it interesting to watch all the way through. Can I say, "unashamedly geeky," without hurting anyone's feelings? I respect and admire the geekiness of it all, but it just didn't come across as how I speak with my kids or, more definitely, how they speak back to me. Perhaps in a larger co-op situation it would work better.
Though my reasoning above includes Bible verses, this curriculum does not come across as overtly Christian. Don't get me wrong, it doesn't come across as un-Christian. More like religion-neutral. You could certainly use this book as a jumping off point for apologetics, but in itself it is not designed for that.

Each chapter covers a lot of information, with a lot of "big words" to learn, so the lesson, although not too long, tends toward dull. But, the authors balanced that out. The fun part of

The Art of the Argument

is the "fake ads" the accompany each fallacy. Some of them are quite amusing (like the ad selling sandals for the purpose of swatting flies), and they really do help the kids understand the concepts under discussion. And the main point is discussion -- being able to clearly state your argument and back it up with good reasons.



The Art of the Argument

student text is available from Classical Academic Press for $21.95, the teacher's text for $24.95, the DVD set for $54.95. Or you can bundle the set for $88.95 and save almost $13.00. The next step is The Discovery of Deduction: An Introduction to Formal Logic aimed at eighth grade and up. Classical Academic Press specializes in Latin and Logic, but also produces studies for Bible, Spanish, Greek, and more.
I would definitely recommend this product. It covers a lot of good information that everyone should know. If you have a leaning toward classical education, then this book is probably a "must-get" for you! And, after all, "If I like it, so will you!"

As a member of the TOS Homeschool Crew, I was provided with

The Art of the Argument

Student and Teacher's texts, plus the DVD sample, for free in exchange for an honest review. See more TOS reviews of this product here.