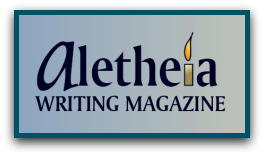 Returning home from a long vacation, I found Aletheia Writing Magazine: Creativity for Christian Teens just waiting in my mailbox. I had not heard of Aletheia before, but the artwork on the front was intriguing: a man sinking down deep in the water, ever-nearing the shadowy outline of a whale. Immediately, I wanted to sink into my bathtub (my favorite reading spot) and dive into the rest! Inside the front cover, I discovered what Aletheia is all about:
"...we are excited about our contributors and the articulation of their Christian faith and experiences in writing. This magazine is geared toward youth ages 13 to 19..."
A magazine for Christian youth written mostly by Christian youth. Neat concept. What followed was page after page of good writing! I often lament the writing that is done in the Christian fiction realm as too mushy, too pedantic, or too boring -- and those are the adults! These teens, on the other hand, have done their best to "unveil" little bits of truth through imagery, syntax and style. And their best is very good -- I was an English major, so you can take my word for it. "Aletheia," by the way, is the Greek word for "truth," in the sense of "unveiling the truth."
This quarterly magazine accepts fiction, non-fiction, artwork, photographs, and book reviews. They do a great job of outlining submission rules and answering FAQs
here
. I really appreciated that the writing tips listed on the website included "pray about it." Getting published in this magazine would boost any teen's enthusiasm for writing. According to testimonials on the website, the editors will work with the teen to help them be more publishable.
There was a nice variety amongst the works published in both issues I was privileged to read -- some more serious, others more humorous; some more realistic, others more fantastic. There were short stories, odes, and poems written by Christian teens matched with illustrations produced by other Christian teens. The look of the magazine was clean and simple, just the way I like them. The longest story submission was 8 1/2 pages of text while the shortest was only 5 paragraphs -- but they were good paragraphs. None of the submissions were examples of immature writing.
In one issue, there was an engaging article called "Into the Artist's Studio with Joe Goode." Joe Goode is an artist/illustrator of the graphic-novel-type (you can see his work
here
). He describes here how he became an artist and gives suggestions for young illustrators (and writers) in using their talents to glorify God.
Scattered amongst the writings, are a few edifying quotes from famous authors and little known facts about their publishing process. There are also "writing challenges" to get your students thinking and writing. If you want more of that sort of thing, check out their website
here
for a place where your teen can submit "blog-like" entries expressing their Christian faith and values in response to questions or ideas posted.

I handed the fall issue to my 14 year old daughter to get her views. As I suspected, she liked some stories better than others, and she wasn't too keen on the poetry. But, that is her style. She likes a couple of genres and she stagnates there. I think if she continued to read the magazine she might gain a broader appreciation of other types of work. And I felt she was totally safe delving into the clean and uplifting material -- unlike much of what we find at our local library or bookstore.
In the fall issue, there were a few Catholic references, but the majority was mainstream Christian thought. Also, one story did include some wizardry and fantasy a la Tolkien. In the summer issue, there was a romance story that followed a courtship-type formula (first kiss at the altar). If those types of things bother you, you may want to pre-read the issue for your younger teens, but I did not find any objectionable material. Subscriptions sell for $26 annually, that's for four colorful issues/40 pages each.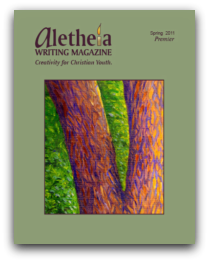 Spring 2011 Issue
Life imitates art. When we read good writing, we tend to write better. When we read good Christian writing, we hopefully tend to live better. This magazine would be great inspiration for your budding writer, teens who enjoy writing or those who just enjoy reading good writing! Oh, and for me, while I'm in the tub!