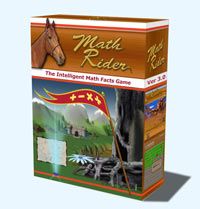 Math Rider

is a fun math facts game designed for kids ages 6-12. The addition, subtraction, multiplication or division (your choice) math facts are presented as hurdles in a horse race. Your child types in the answer to each equation that pops up -- the faster the better! For each question answered correctly, the horse jumps a hurdle. An incorrect answer causes the horse to stop in his tracks, the hurdle burns up, and the correct answer is given visually as well as orally. The same question is repeated within 2 turns so that the learning is reinforced right away. I like that.
For each race run, your child is earning distance along a Quest track. There is a whole story sequence about saving a princess in a castle. The more correct answers and more quickly done you are, the closer you get to the story resolution and your rewards. The number of points/distance you need to cover depends on the Quest. You can choose Easy, Medium or Advanced, and you can vary the amount of problems and numbers covered in the problems. There are a total of four quests, but differing rewards for each math operation. Although there is talk of an "enchanted forest" and a flower with magical properties, I did not find these to be objectionable for our family. You can review your progress by clicking on the Quest map, to see how far you need to go.
The graphics for this game are simple and the only real animation is the running horse and the rewards. That is not a bad thing, in my opinion, as sometimes games are so exciting and visually distracting that the learning is lost. But, if your child is used to highly animated computer games, they may find this one a bit on the boring side at first. I found it a little disconcerting that the math facts questions were completed before the horse had finished his last hurdle and you have to wait for him to catch up. It would be nice if he actually jumped at the moment you answered correctly.
Where Math Rider really shines is in its data collection. This game collects information on what numbers, what facts, what typing speed, what answering speed, previous speed for that same problem, and more! There is a chart for each math operation (addition, subtraction, multiplication or division) that includes information on each number problem and what level your child has achieved. You really need to know each fact in order to master the game. After each hurdle race run, the screen shows a bar graph for each question. This bar graph lets you know not only whether the answer was correct/incorrect, but also how your speed was. Math Rider adjusts itself to your child's typing speed.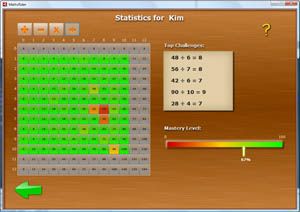 My son is slightly older than the target age range for this game, and he found the Quest story a little childish. However, I did see improvement and more confidence in his multiplication math facts after he played -- which is the whole point!!! I would definitely recommend this game, especially for younger children.
Math Rider

currently sells for $37, but the price is going up on February 15, 2012 to $47 as they just came out with a new 3.0 version. So, if you are interested, you'll want to race over to Math Rider's website. There is a

free 7-day trial

so you can check things out before ordering.
As part of
The Old Schoolhouse
Homeschool Crew, I was provided access to this game free of charge in exchange for an honest review. For more TOS reviews, click
here
.